Barbara Rad-El, Senior Librarian, Ex Libris
From the time that we first released Alma library management system, we have populated our login screens with images related to various themes that we, or the Alma community, have chosen. (See an earlier blog on our login screens here).
In late 2018, we asked our user community to send us pictures of their libraries or their librarians. Our independent panel of judges chose 12 pictures for the 12 Alma releases of 2019. This was so successful, that we had the same theme for 2020.
As we all know – only too well – the COVID-19 pandemic that started in January 2020 changed everything. Changed the world as we knew it, and more closely at home, changed the way our libraries functioned.
When the team met in late 2020 to choose a new login theme, it was clear that this dramatic change in our lives would have to be reflected in some way. We very quickly came up with the text "Our Changing World, Our Changing Libraries".
It took approximately 10 seconds for the team to unanimously choose the text for the January Login screen: 'Saluting Medical Personnel Around the World". How can we begin to thank our medical personnel for their dedicated, persistent care, working long hours, under often extreme conditions to take care of patients infected with the virus?
You can read the Alma January 2021 Release Notes here.
For our February theme we turned to look at libraries. Most libraries have had to close for extended periods of time. Fortunately, Alma staff have been able to continue working from home with minimal disruption for patrons. However, if the library doors were closed, patrons could not get access to physical materials. Libraries and library staff did their utmost to ensure that they are able to get access to all they needed via e-resource and digitized materials – hence our theme for February – "The Surge in E-Resource and Digital Assets Usage".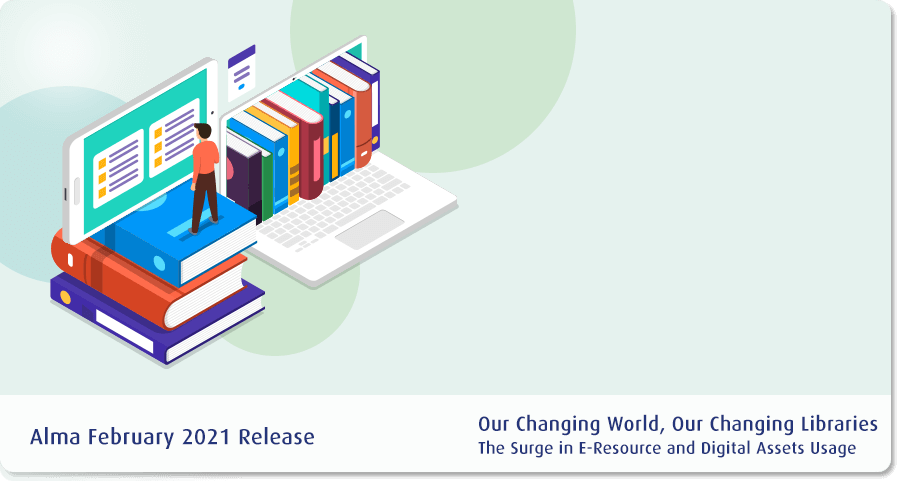 Read the Alma February 2021 Release Notes here.
Stayed tuned to read more about our login themes for the coming months. Check out Part 2 in this series.